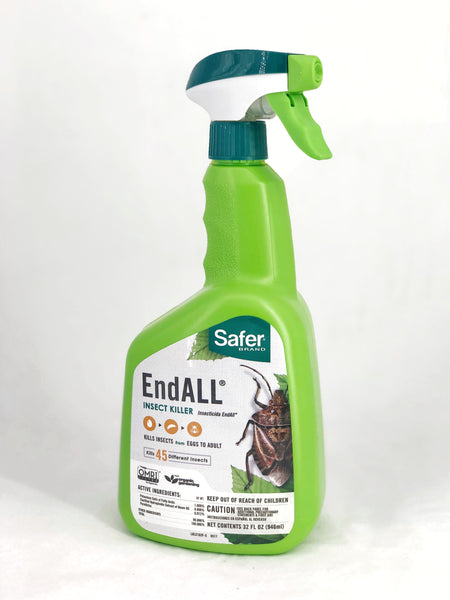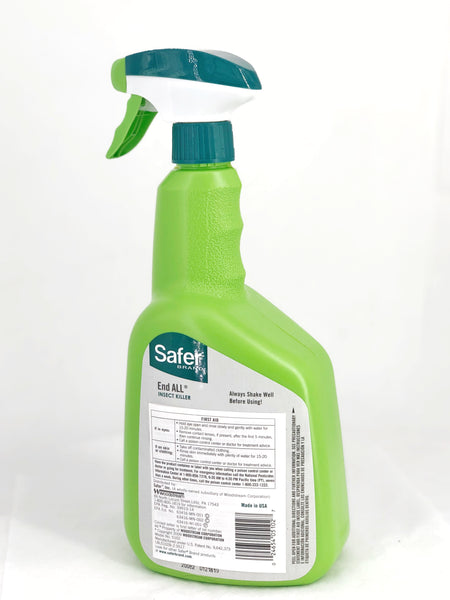 SAFER® BRAND READY-TO-USE END ALL® ORGANIC INSECT KILLER
Safer Brand 32 oz. End ALL with Neem Oil
Kills 45 Insect Species on Contact
End ALL Protects Plants From:
aphids

beetles

caterpillars

mealy bugs

mites

psyllids

stink bugs

worms

and more...
Tough on Insects, Gentle on Your Plants
Safer Brand End ALL Insect Killer with Neem Oil kills 45 different species of hard and soft bodied insects without hurting your plants or edibles and without leaving behind any oily residue. Its versatile formula is made of simple ingredients that specifically target destructive insects while allowing your garden to flourish.
The Organic Choice for Insect Control
End All Insect Killer is OMRI-listed and compliant for use in organic gardening. Furthermore, it's the top choice for hydroponic gardeners. For the serious gardener, this means worry-free pest control for plants and edibles, and a greener, healthier garden. And thanks to a spray that dissolves harmlessly into the soil, End ALL can be applied up to the day of harvest.
OMRI Listed Formula Kills Insects in All Stages
Safer Brand End ALL Insect Killer works on insects throughout their entire lifecycle thanks to three active compounds that target their unique biology. Neem oil, an extract from evergreen trees, blocks an insect's ability to feed, grow and reproduce. Pyrethrin, derived from chrysanthemums, penetrates the nervous system of the insect. Finally potassium salts of fatty acids extracted from food oils, penetrate and disrupt the insect cellular membrane, causing rapid dehydration. Together, these ingredients deliver a triple-threat to insect eggs, larvae and adults, without harming people, pets or plants when used according to label instructions.
size: 3.3 x 5 x 10.9 inches (32 FL. OZ.)